Crop Update Archive »
CB2204 - CROP UPDATE - 24th May
Pea moth
Traps should have been out since the middle of May but it is not too late to act.
Details of the trapping and monitoring systems were issued in Crop Update number 1 on 21st April :
Combining peas
The threshold, determining treatment is 10 or more moths caught in a trap on two consecutive occasions.
Crops which are at the first pod set stage, or which have flowered should be sprayed on the predicted spray date. Later crops should only be sprayed when they reach first pod set. Crops with flat pods are susceptible to damage. A second application should be applied 10-14 days later.
A spray date can be obtained from the PGRO website - based on a computer prediction, 3 - 4 days after reaching a threshold.
A table of products available for treatment can be found here:

Vining peas
The acceptable level of damage is much lower in vining peas so the threshold used for combining peas is not suitable. Traps should only be used as a guide as to the presence of moths.
Vulnerable crops at the first pod set stage should be treated with a single application. Take care to observe the minimum interval between application and harvest.
Product available for treatment can be found here: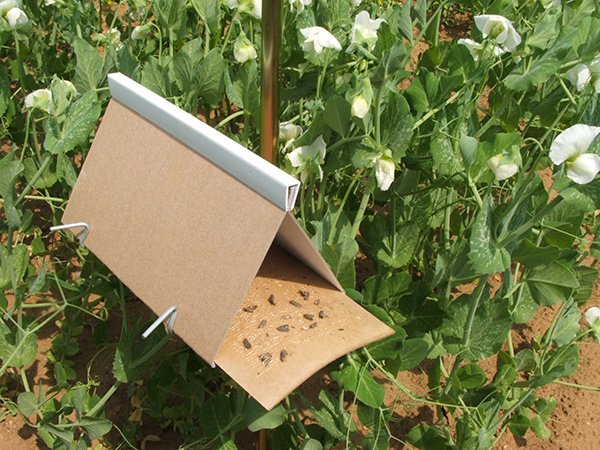 Aphids - Peas
Aphid activity is emerging in pea crops. Threshold for feeding damage in combining peas is reached when 20% of the pants are infected. In vining peas the threshold is lower ( 15%).
If the control of viruses is the main concern, then spraying as soon as aphids are found is advised.
More on pea pests:
Aphids - Beans
Black bean aphids have been reported in winter bean crops. The threshold for spraying is Colonies generally first develop on headlands and spray applications made at early flowering or when 5% of plants are infested reduces infection of aphid-transmitted viruses.
Where a general infestation of 10% of plants are colonised, spraying should be carried out as soon as possible.
Dense colonies build rapidly spreading down the stems to the leaves. The honey dew exudate is sticky and attracts botrytis moulds and encourages chocolate spot.
Early spraying during flowering is a difficult decision as only a single full rate application of pirimicarb is permitted.
More on bean pests and diseases:
Further information can be found at the Rothamsted Insect Survey , which records aphid levels and distribution but is no substitute for physical crop inspection.
Diseases
Chocolate Spot
With the warmer unsettled wetter weather of recent days there is a risk chocolate spot may develop in bean crops.
Winter beans are more susceptible to infection, especially where plant populations are high. Spring beans and broad beans can develop chocolate spot during wet spring and summer conditions.
The disease develops as small, circular, chocolate-coloured spots on the lower leaves. These become larger and may coalesce to form a greyer coloured lesion extending over the leaf surface. Stems and pods can also develop a covering of spots or flecks. Severe infections can result in defoliation.
Protectant fungicides should be applied at first pod if spotting is seen on the leaves. If severe spotting is seen earlier in the season, the first spray should be earlier. A second spray should be applied 3-4 weeks later if spotting continues to develop on the upper parts of the plant. A range of products and mixtures are approved.
PGRO technical information
All PGRO Agronomy information has been revised to include the changes in pesticide availability for peas and beans. PGRO publications are available as free downloads from the PGRO web sitewww.pgro.org User passwords are available on request through the web site.
The information in this publication must not be reproduced without the express written permission from the PGRO.

For any information about pest or disease management please contact PGRO at 01780 782585 or becky@pgro.org.