This web site can only show a small amount of the many aspects of Colin's varied career. Go to the Leakey web page and his Wikipedia entry to see full details about Colin and his life's work.

A LIFE IN RESEARCH & DEVELOPMENT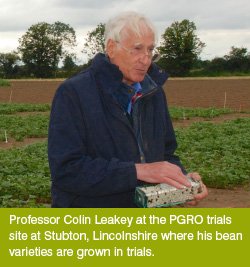 Professor Colin Leakey's life journey has taken him from an upbringing in East Anglia, across much of the world, and back to the UK and the peaceful close of Lincoln Cathedral. In his many lives, he has travelled widely and wisely, making important contributions to the development of beans as one of the leading scientists involved with the crop.
1. FAMILY LIFE
The Leakey family don't mind swimming against the tide until the tide turns in their favour. This is true of Colin, who has a passion about food and nutrition in general, and has focussed much of his energy into plant breeding - and to beans in particular.

He is the son of Louis Leakey, the pioneering paleoanthropologist. The notion of an African genesis for humankind is widely accepted today, but when Louis began to search for human fossils in East Africa in the early 1930s he was met with scepticism. He and his wife Mary held firm to this belief through decades of exploring sites in Tanzania and Kenya, and the faith was vindicated when they uncovered the first of many hominid fossils at the now-famed Olduvai Gorge in Kenya.


2. SCHOOL LIFE
Colin was born in Cambridge in the 1930s and attended Gresham's School in Holt, Norfolk which has a host of famous alumni - including the poet W.H. Auden, the composer Benjamin Britten - and the inventor James Dyson. By a 'strange but true' coincidence, Colin's bean varieties are nowadays tested at the PGRO trials on one of James Dyson's farms!


3. EARLY LIFE
After school, Leakey's national service included a year on the staff of Lord Mountbatten who was then Commander in Chief of the Mediterranean Fleet. He then studiesd at Cambridge University for his first degree, in Natural Sciences. He later trained in tropical agriculture and plant pathology at Exeter University and the University of the West Indies, Trinidad. In 1972, having already taught at Makerere University, Uganda, he was awarded a PhD by Cambridge University.


4. AFRICAN LIFE
Colin Leakey was seconded from the Commonwealth Mycological Institute to Uganda's Kawanda Research Station as pathology specialist in the group working on the improvement of Phaseolus beans by plant breeding. In addition to substantial work on beans and other legumes, he did other important work on coffee, cocoa, cotton and vanilla diseases.

He also carried a substantial teaching load at Makerere University in plant pathology, crop protection and plant breeding and as well as teaching both statistics, agro climatology and crop ecology.

In the early 1970s, political turmoil in Uganda led to the end of British funding and Colin's return to the UK.


5. WORLD LIFE
The countries where Colin's skills have been influential are boundless. Examples from South and North America, widely separated in time, will underline the breadth of his work.

In the 1970s, he discovered the attributes of Manteca beans. These are easy to digest and do not cause flatulence - but their yield was not initially viable in the UK. So he spent time breeding varieties that could be successfully grown in this country.

Then, in the 1990s, there was interest in developing one or more of his new varieties in the USA. Colcord Farms in Kentucky organised trials to be undertaken at the research farm of the University of Kentucky, Lexington and one of the yellow-seeded varieties from his Peas and Beans Ltd company is now grown and marketed in San Francisco.


6. CONSULTANTS LIFE
An impressive portfolio of companies and organisations have benefited from Colin's knowledge, and his consultancies have covered wide-ranging topics and diverse locations.

In the 1970s he was in south Thailand as a crop specialist in teams for economic planning studying tropical fruits and agricultural research. That decade also saw him giving advice on beans to H.J. Heinz Ltd. Field Studies and enquiries came from their staff in Portugal, Ethiopia, South Africa and Chile.

At Wimpey Agricultural Laboratories he looked at water requirements and quality and plant physiology under near desert conditions, and on projects in the United Arab Emirates for their Royal Family.

He worked for Claeys Luck SA of Lille - one of the largest French private sector seed companies - as a researcher in bean, soya and pea breeding and training their staff in breeding and field plot technology and analysis.

A less-usual consultancy was for International Computers Ltd as a member of the project team for computer-aided agricultural planning. Just a few of the wide-ranging projects included rubber replanting in Malaysia, banana growers in the Windward Islands and smallholders in Malawi.

7. WRITERS LIFE
His list of publications is a reflection of the range of his interests. The books he has written, edited or contributed to include Crop Improvement in East Africa, Agriculture in Uganda, Food Crops of the Lowland Tropics and Genotypic and phenotypic markers in common bean. There is a series of major reports on topics such as Breadfruit Reconnaissance Study in the Caribbean, Pulse crops in Chile and a feasibility study on the Establishment of a date palm plantation in Oman. There is not enough space to even list, let alone detail, the papers in such revered academic journals as Nature, the Journal of Applied Ecology and Annals of Applied Biology.

8. BREEDERS LIFE
After Uganda, he began active collaboration with the Cambridge University bean programme, with Unwins of Histon and with the Bean Improvement Cooperative. With the late Alice Evans he was responsible for IBPGR's production of the crop descriptors booklet for Phaseolus vulgaris which forms the basis of all registrations to this day.

Through his good working relationship with the Field Station of Cambridge University's Department of Applied Biology it was possible to maintain an active and continuous bean plant breeding programme, while providing research and technical service to the associates.

In the 80s he set up Peas and Beans Ltd with Anthony Brown - a friend who shared Colin's vision of developing greatly improved pulses. Their aim was to develop new cultivars from the bean cuisines around the world that could be adapted to suit the British climate. Among many projects were Manteca beans from Chile and a new type of red-seeded bean with improved processing characteristics. (see other sections of this article).

Later, he set up a small private research station in Girton, Cambridge. Here he continued breeding work and a trials programme for varieties, as well as collaborative trials. After re-locating to Lincoln, his programme has moved on from breeding to mainly development with a limited role of varietal maintenance.

All-in-all, his network of contacts and influence within the UK pulse industry is legendary and includes ADAS, Campden Food Laboratories, Phaseolus Ltd, Frontier Agriculture and, of course, a long association with PGRO and its work.


9. FOOD LIFE
Like all good research, Colin's work on beans has an end result, and one well-known user of his breeding work is Hodmedod's (who featured in the last issue of the Pulse Magazine). Their canned Red Haricot Beans are the Stop variety of Phaseolus vulgaris bean bred by Colin for colour-fastness and suitability for production in the UK.

As often in Colin's many lives, there is a nice set of cross-links as the beans are grown by Tim Gawthroup, husband of Sandra Gawthroup, who set up Phaseolus Ltd to produce IQF beans, largely at Colin's suggestion. Phaseolus are suppliers of a range of individually quick frozen beans & pulses for the food manufacturing and catering industry.

The description of the benefits of beans on the Phaseolus Ltd web site is a fitting way to end this summary of Colin's life in beans and how his work has to helped push forward the 'bean story' worldwide: '… Beans & pulses are nutritious, delicious and versatile; low in fat and sodium, high in fibre, they have no cholesterol and grow in many varieties, colours and sizes … Added to a host of dishes, they create a medley of colour and flavour retention … As ready to eat beans & grains, they can be used in hot and cold recipes including ready meals, salads, soups, sauces, dips, sandwich fillings and formed products …'