Weed infestations will reduce yield, and climbing species such as black-bindweed and cleavers can cause lodging. Effective weed control will ease combining.
A checklist of the approved herbicides and timings for various weed problems is given for winter and spring beans in the PGRO Agronomy Guide.
Broad-leaved Weeds
It is essential that pre-emergence residual herbicides are used, since there is only one approved post-emergence herbicide which controls some emerged broad-leaved weeds. There are no herbicides to control thistles and docks - products containing MCPB, MCPA or clopyralid are damaging to beans. Most pre-emergence products have a minimum planting depth requirement and dose rate may be influenced by soil type.
If cleavers are expected to be a particular problem in winter or spring beans Centium 360 CS (clomazone) in a suitable tank-mix will be effective pre-emergence.
Nirvana (imazamox + pendimethalin) is approved in both spring and winter beans and various pendimethalin formulations have EAMUs (Extension of Authorisation for Minor Use). Defy (prosulfocarb) has EAMUs for pre-emergence use in both winter and spring beans.
In winter beans, residual herbicides Kerb (propyzamaide) and Crawler (carbetamide) offer limited control of broad-leaved weeds. They are chiefly used when black-grass, volunteer cereals, wild-oats and other annual grasses are expected to be a problem. There are no reports of black-grass resistance to either of these products and both are important tools in its control. Bentazone is the only active ingredient approved for post-emergence weed control. However, it has a limited weed spectrum and will not control annual meadow-grass, large fat-hen or black-bindweed. It is useful for control of small cleavers and oilseed rape volunteers which may not be controlled by pre-emergence materials. To avoid crop damage, it should be applied before 7 leaf pairs (winter beans) and before 6 leaf pairs (spring beans).
Kerb and Crawler are for use only in winter beans and will control volunteer cereals, various grass weeds and are useful where black-grass is a problem
especially if there are resistance issues.
Fusilade Max (fluazifop-p-butyl), Laser (cycloxidim) + oil, Pilot Ultra (quizalofop-p-ethyl, Falcon (propaquizafop) post-emergence, all have some activity on wild-oats, black-grass, and volunteer cereals. Falcon gives some control of annual meadow-grass.
Couch and perennial broad-leaved weeds
As far as possible perennial weed problems should be tackled in the previous crop pre-harvest using glyphosate products. In the crop the rates required to achieve couch control with graminicides is uneconomic. Glyphosate applied pre-harvest on beans provides an excellent opportunity for eradication of couch and problem perennial broad-leaved species, but must not be used in crops for seed. It should be applied when all the pods are dry and black,
and the seed is hard, with moisture content 30%
or less, although the stems may still be green.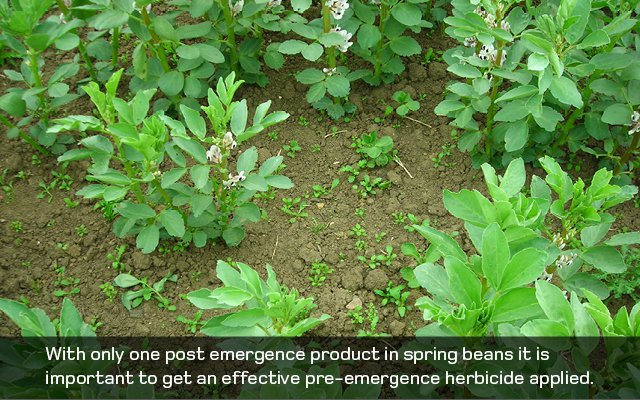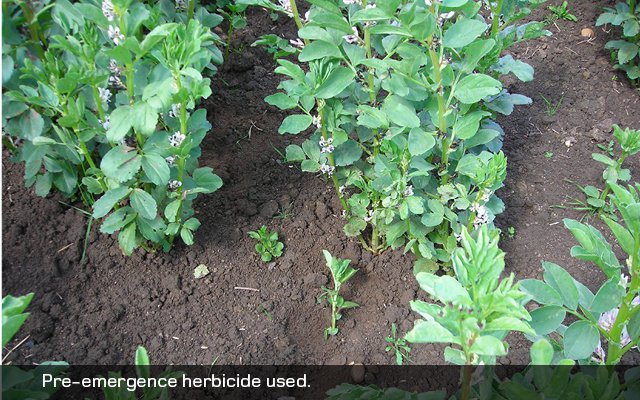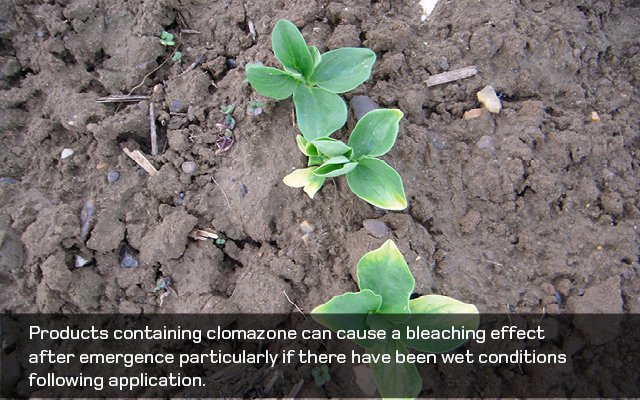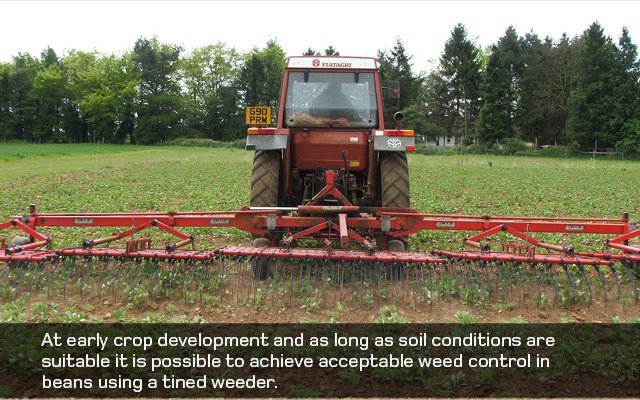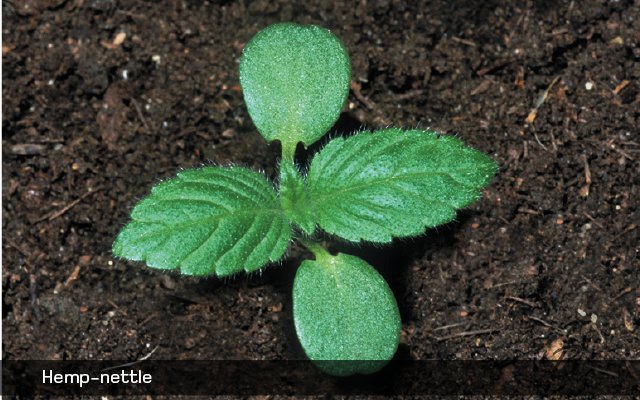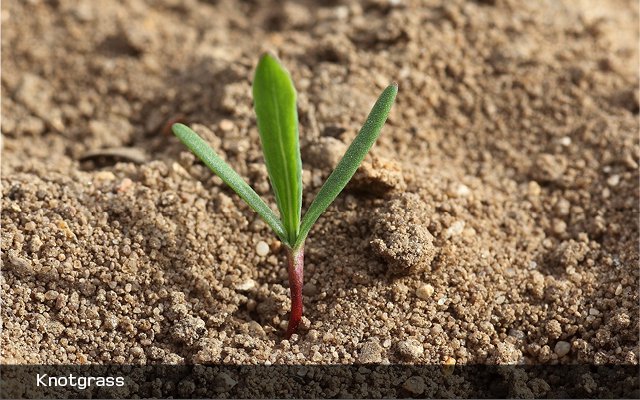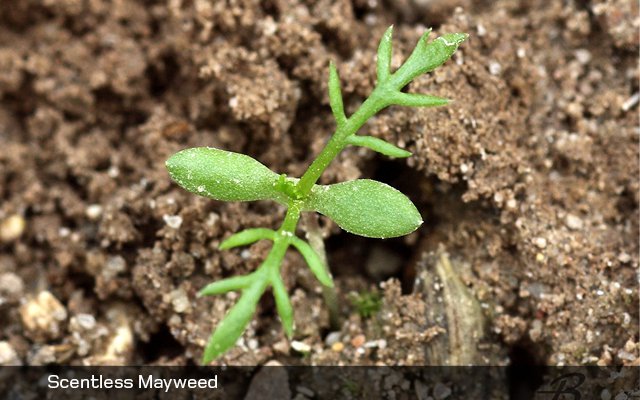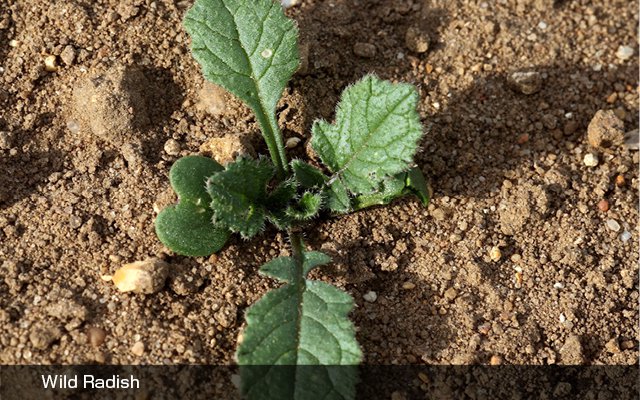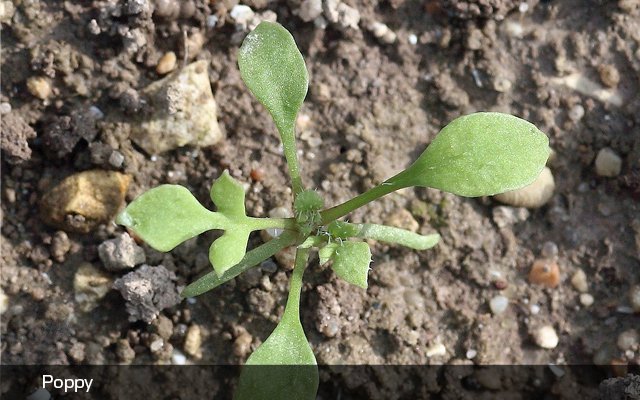 Weed control images on this page from ©Blackthorn Arable Ltd.