Good weed control is essential in the pea crop, since it is not very competitive and is easily dominated by weeds. Efficient control will ease combining and facilitate rapid drying in addition to increasing yield.
A number of pre- and post-emergence herbicides are available and a list of currently approved herbicides can be found in the PGRO Technical Updates TU19
'Choice of Herbicides for Combining Peas' and TU23 'Checklist of Herbicides for Combining Peas'. Pre-emergence herbicides are best applied to a rolled, clod free, moist seedbed.Good weed control is essential in the pea crop, since it is not very competitive and is easily dominated by weeds. Efficient control will ease combining and facilitate rapid drying in addition to increasing yield. A number of pre- and post-emergence herbicides are available and a list of currently approved herbicides can be found in the PGRO Technical Updates TU19
Broad-leaved Weeds
General control of annual broad-leaved weeds can be achieved pre-emergence with a soil-applied residual herbicide or, when weeds and crop have both emerged, with a foliar-applied post-emergence herbicide.
Where soil type allows, it is advisable to use a pre-emergence herbicide. It removes weed competition early and gives better control of some weeds, for example, knotgrass and annual meadow-grass.
However, adequate soil moisture is needed for good efficacy of a residual herbicide. Pre-emergence Stomp Aqua, Cinder etc (pendimethalin), Nirvana (imazamox + pendimethalin) and Lingo (linuron + clomazone) are effective. Afalon (linuron) in the spring crops has a more limited spectrum but is a useful tank-mix product especially if mayweeds are a problem. Pre-emergence cleaver control is possible using Lingo or Centium 360CS (clomazone). Although active against a few other weeds, Centium is most likely to be used in tank-mix with a partner product.
Post-emergence sprays of full rate bentazone can be applied from 3 nodes of the crop to well-waxed peas (tested with crystal violet dye). It has useful activity on volunteer oilseed rape and small cleavers but less on black-bindweed and fat hen. MCPB controls thistles and docks and effectively stunts large volunteer oilseed rape. Check product labels for any varietal restrictions. Bentazone + MCPB mixes are permitted, but past work has shown increased likelihood of crop damage if both are used at permitted full doses.
Volunteer Oilseed Rape
This can be a serious problem if it is grown in the same rotation. Pre-emergence Nirvana and Stomp are effective.
However, control particularly of rape germinating from depth, may be incomplete.
To avoid harvesting difficulties, a post-emergence treatment will be required. The least expensive herbicide is MCPB which is effective on small rape - however it stunts, rather than controls, larger plants.
If infestation is severe, post–emergence application of bentazone should be effective.
Wild-oats
Infestations of wild-oats can cause severe yield reduction and interfere with harvesting. They must be controlled to avoid re-seeding in the following crop. Post-emergence graminicides such as Fusilade Max (fluazifop-p-butyl), Laser (cycloxidim) + oil, Pilot Ultra (quizalofop-p-ethyl), and Falcon (propaquizafop) give control.
Couch and Perennial Broad-leaved Weeds
Couch is best controlled with products containing glyphosate pre-harvest of cereals, or in the autumn, or pre-harvest of peas (except for seed crops). Although some graminicides offer control, recommended application rates are uneconomically high.
Glyphosate applied seven days pre-harvest will eradicate perennial broad-leaved and grass weeds.
It must be applied when moisture content of the peas is 30% or less, at this stage the crop is overall yellow and senescent. It must not be applied to seed crops.
Other Grass Weeds
The post-emergence graminicides can control volunteer cereals and offer some reduction of black-grass and other grass weeds, however, resistant grass weed populations will cause problems. Laser has activity on only enhanced metabolism resistant black-grass populations. Falcon achieves some suppression of annual meadow-grass. Control with the graminicides, particularly of high populations of black-grass can be disappointing. Where black-grass is anticipated to be a problem, it is recommended that populations are depleted as much as possible by ploughing and the use of stale seedbeds prior to drilling.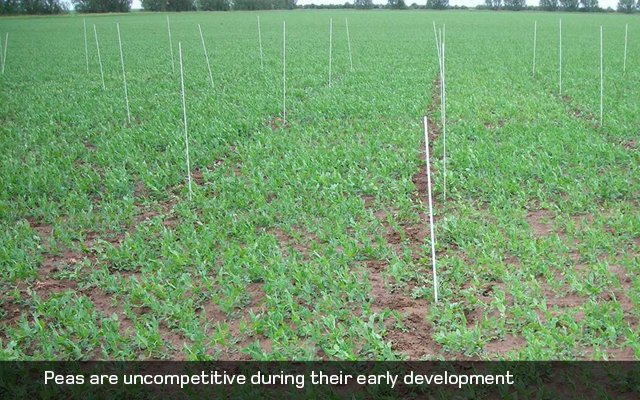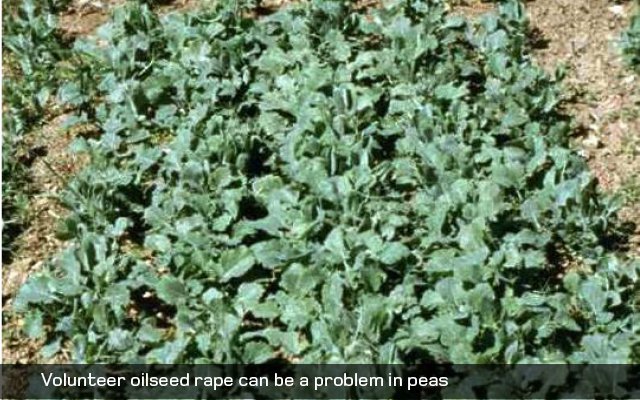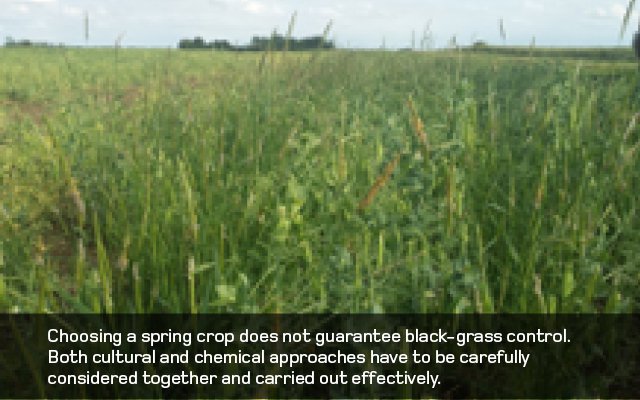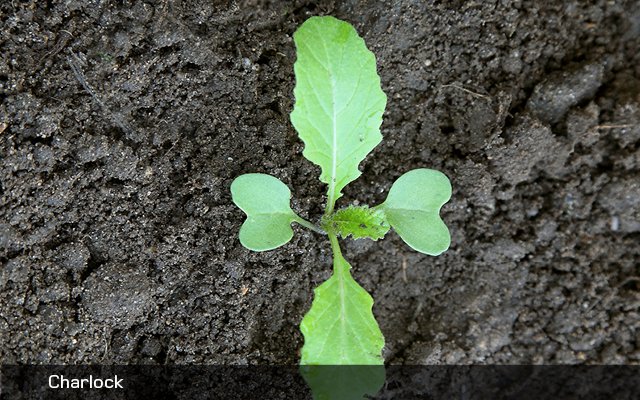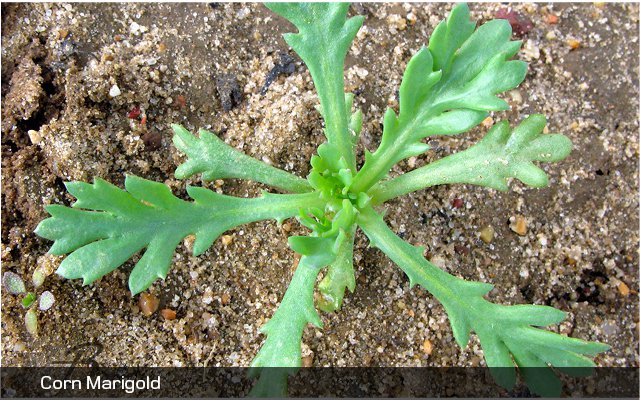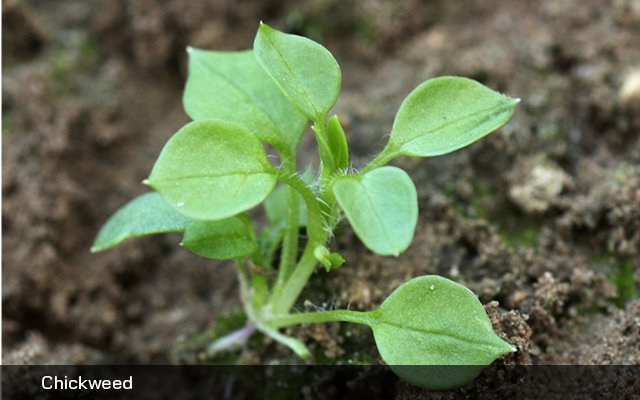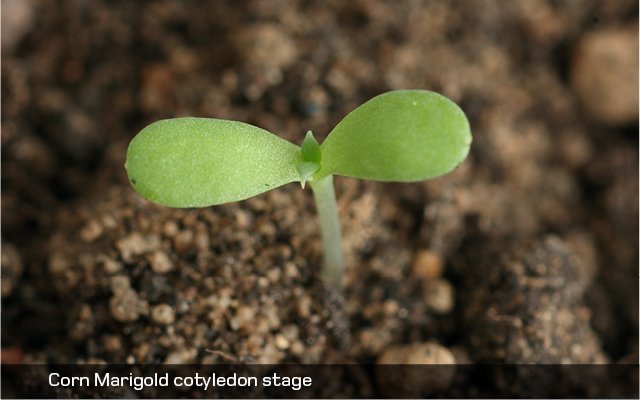 Weed control images on this page from ©Blackthorn Arable Ltd.